Destin, FL Photography Locations
The Jetties
Osteen public beach access AKA: The Jetties
The Jetties are this Destin photographer's paradise. This is absolutely my favorite place in Destin to photograph families and senior portraits. It is about a 300 yard walk out to the Jetty area, but well worth the effort. This area offers so many backdrops that there isn't time in one session to use them all. From the Emerald green gulf to the crystal white sandy beach you will find the perfect backdrop of drift wood, sea oats, sand dunes and the jetty rocks that jut out into the ocean. It is also the only place in our area where the sun sets over the water.
Vacation Rentals close to the Jetties in Destin: Destin Pointe, Jetty East, The Islander, Sandpiper Cove, Waterview Towers Yacht Club, East Pass Towers
This is one of our state parks and is just off Hwy. 98, near the eastern boundary of Destin. There is a small entrance fee of $6.00 per car load for this location. This area offers our beautiful Destin beaches that everyone has come to know and love. It is usually not too crowded even during peak season. Not only is the beach beautiful, but the park has a nature trail that offers another awesome backdrop for a portrait session or just a fun area to explore.
Miramar beach lies along Scenic HWY 98 encompassing one of the largest gulfside neighborhoods to include Crystal Beach, Destiny By The Sea,  and Destiny East . Wide sandy white beaches and crystal clear gulf waters will be your only backdrop in this area as there are no sea oats or sand dunes, but the beach is beautiful. Being as this is a predominately residential area with tons of condos and beach rental houses it is usually very busy so sometimes finding parking and an empty space on the beach for sunset beach portraits can be a challenge. However the sunrises in this area are amazing and there is never a crowd on the beach in the early morning hours.
Okaloosa Island located just over the Destin "Crab Island" bridge, offers some of the last unspoiled areas in Destin and the only scenic uncrowded beaches in the area. Located off Hwy 98 close to the Destin Bridge, the beaches are military owned but open to the public if you obtain a FREE usage permit off their website. You will also need this permit if you plan to hang out on the beach at Crab Island. There are several pull offs that you can use but I do have a favorite. My favorite beach has pull off parking right off HWY 98 with an easy paved walkway access out to the beach. This is one of my favorite beach locations in the Destin area. There are no bathrooms or showers but the scenery makes up for this lack.  The beach is huge, clean and surrounded by sand dunes and sea oats. Did I mention that is is never crowded? If you would like to use this beach for your session, I will give you the information on how to obtain the free permit online. It's supper easy. You just have to watch a very short educational video on our beaches and sea life and take a 3 question quiz. Then your FREE permit is good for a year and you can use the beaches at your leisure. I promise, if you want a very scenic, uncrowded beach for your portraits, the little time it takes to get the permit is well worth it!
Eden Gardens State Park
Eden has been the home of so many weddings and parties over the years that when I vist there, I feel like I am going to visit a relative. It is by far one of my favorite non-beach locations in our area. It is located off HWY 98 in the Point Washington area and very easy to find with the well-marked signs leading the way. There is a small fee of $4.00 per car for this location. Eden Gardens is a 161-acre park with majestic old oaks, brick pathways, black iron fence, fountains, statues and a rose garden. There is a reflection pool with a fountain surrounded by plant life, many beautiful flower gardens, nature trails, a lake with a wooden dock jutting out into the water and so much more. This place is worth visiting even if you aren't having your photography session done there. IF the beach isn't your idea of fun for a family portrait then you will love Eden Gardens State Park.
Eden State Gardens and Mansion   
The Village of Baytowne Wharf
The Village of Baytowne Wharf features an array of boutiques for shopping, restaurants, candy stores and so much more. It is a very fun place to visit with tons of activities for the children with games and a carousel! There is an abundance of great architect which leads to awesome portrait backgrounds. With cobblestone pathways, hidden fountains and grassy knolls surrounded by trees and flowering plants, there is a backdrop for everyone's taste.
We typically shoot in Destin, and the neighboring areas of: Miramar Beach, Crystal Beach, Santa Rosa Beach, Sandestin, and Okaloosa Island. Here are some of our favorite family picture locations in Destin. Or grab the PDF of the article.
Call (850) 307-8874 today, or send me an email, if you'd like to schedule any of our Destin photography services: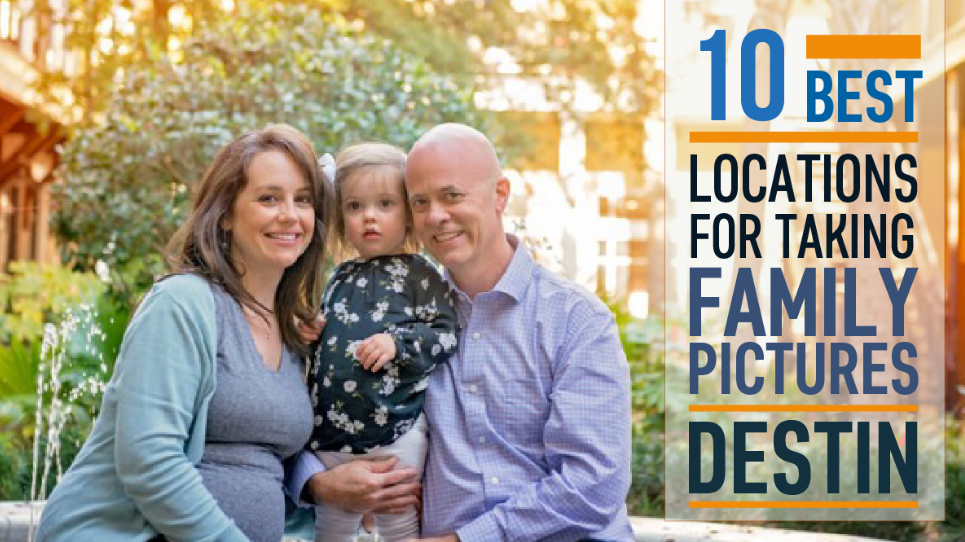 Destin Photography Sessions